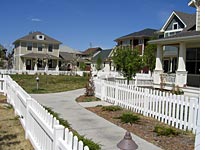 The debate between New Urbanism and Modernism continues and Slate.com jumps into the ring again with this article about the new mixed use development on what used to be Stapleton (Denver) International Airport.

One of the largest new-urbanist developments under construction at the moment is in Denver. Stapleton is the site of the old Denver airport. When it's finished, the 4,700 acres will have 30,000 residents and 35,000 new jobs. The pragmatic developers—Forest City Enterprises—have provided something for everybody. In addition to dense residential neighborhoods of single-family houses, there are low-rise apartment buildings and condos, an 80-acre public park, several neighborhood centers, a regional shopping mall, an office campus, and a power center that includes a Wal-Mart and a Sam's Club. This is not doctrinaire new urbanism, but in the real world, planning doctrines must adjust.
The conclusion of the article is much the same as I've said in this blog that New Urbanism does not have to compete with Modernism. In fact, many areas in SE Louisiana can be both New Urbanist and Modernist. If only the Modernist will learn this lesson. The shortcoming (IMO) of the Modernists is they tend to focus soley on style whereas New Urbanist delve mainly into how cities function with respect to its residents. Disneyification is only an afterthought.
The second conclusion of this article, again, agrees with of many of my previous posts.
In July, the city put the rebuilding in the hands of the Greater New Orleans Foundation, a local charity. Abandoning the idea of a citywide visionary plan, the foundation will focus its reconstruction efforts at the neighborhood level. Whether or not this strategy will succeed—and in the current state of New Orleans, who knows?—it is not unreasonable. Levees and flood control infrastructure must be built by public agencies, but urban neighborhoods, as Jane Jacobs pointed out long ago, work best when created piecemeal by private households and entrepreneurs. So, a decentralized approach is definitely a good idea.
As I have posted before, the rebuilding of New Orleans should be driven by the residents and the planning process, slow as it may be, is going about it the right way. This city is almost 300 years old and it wont be rebuit in one.